Groovy
Jun 21, 2009 18:21:11 GMT -7
Post by Amy on Jun 21, 2009 18:21:11 GMT -7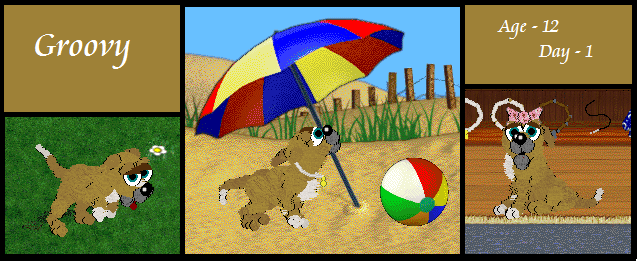 *Info*
Show Name:
RSK's Groovy Girl
Call Name:
Groovy
Gender:
Female
Spayed/Neutered:
No
Breed:
Mutt
Generation:
1st
Birthdate:
6/21/2009
Adopted on:
6/21/2009
Age (Real Time):
1 Year
Color:
Tan with White patches
Sire:
Unknown
Dame:
Unknown
Previous Owner / Adopted From:
AC In Game
Field Trialz:
0
Frisbee Trials:
0
Agility Trials:
0
Rescue Dog:
0
Hoop Jumping:
0
Pose Shows:
0
Duke's Group Events:
0
*Edited Pics*
None yet...
*Obedience & Tricks*
Sit:
Down:
Come: Whistle
Heel: Whistle, pull forward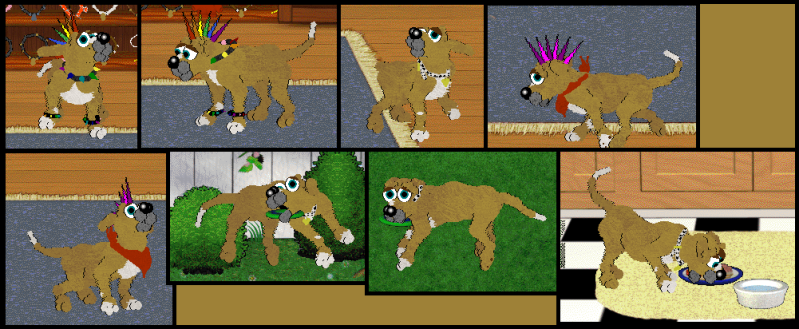 *Extra Info*
Groovy is such a sweet girl! I absolutely love her markings and her non-brown ears! Groovy is so funny and gives me the cutest pictures! I'd have to say her favorite toy is the red tug toy, as it's the first thing she grabbed when she went into the backyard and she carried it around with her for a while before bringing it to me. Where as anything else she grabs, she instantly brings it to me. Groovy also loves to run! She spent a few mins just running in Figure Eights around the back yard, it was pretty cute. Of course she had the tug toy in her mouth as she did it.

If there is nothing to bring to me, then Groovy is all about petting. She will come up and nudge, rub on, lick, or nip at my hand to get me to pet her. If I stop, she'll either give me these big eyes and stare at me, or stand there and bark. If I don't give in, then she'll come up and ask me to pet her again.. which I always do.

Groovy is great at playing Frisbee and absolutely LOVES her baths! She loves the watering can and being brushed. She's not too thrilled about the flea/tick spray or the perfume, but everything else she can't get enough of.

Before going into retirement, she did find a mate. His name is Soot and he is a purebred Dachshund. They had several puppies together and all were very cute! Now that Groovy is out of Retirement, I left Soot in Retirement (at least for now) as I wanted to just play with her. If Soot is out, they will completely ignore me lol. They have had plenty of pups together anyways and I'd like her to see if she can find another friend to play with.

Groovy doesn't seem to mind all of the extra attention! She also loves it when I put clothes on her, she gets all happy and starts showing them off with such a happy look on her face

Groovy also loves treats and eating out of the blue dog food bowl (though I don't think she's too picky about which bowl she eats from lol).


*Groovy's Schedule*
*Show Results*
::Regular Pose Shows::::Petz Sports Club::::Duke's Group::::Legend Ink::::RKC::
::AWARDZ::
::Links to her other Threads::
Back from Retirement:
dj7.proboards.com/index.cgi?board=brag&action=display&thread=1308&page=1
Playing With Groovy:
dj7.proboards.com/index.cgi?board=park&action=display&thread=1315&page=1