Duke
Oct 22, 2007 16:14:04 GMT -7
Post by Amy on Oct 22, 2007 16:14:04 GMT -7
If your here, you've probably already met Duke

, but here he is once again:
Duke's 1st & 2nd day:

This is Duke, he found a stick. The stick is the first toy he found after bringing him home. It is his favorite thing to play with so far, though he's also found the joy of playing Tug of war as well. This is also him in his original coloring.

This is one of his tricks he now knows. He catches on to what I'm trying to teach him rather quickly! Very smart boy. This is also Duke painted in different colors. I like him looking this way.

Duke also knows down, along with Sit, Come, & Heel. He loves his training time!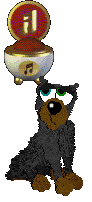 Listening to music is Duke's Favorite thing to do! He LOVES the music box. He will either sit and listen to it, or start dancing. He's a good dancer for a dog! He also loves to carry it around in his mouth so I can't put it away. Duke already knows how to change it to his favorite songs. When I try to put it away, he'll knock it right back out of the carriing case. Here's another pic. of him listening to music (again painted in another color)


And there's duke painted all ready for Halloween! Sadly in Petz 3 there are no costumes to dress him in
besides maybe a clown. lol guess that's what He'll have to be.... here his is!

He is Very excited! Went right into a play bow, I got that pic but messed up when I went to save it. This is of him loving the feel of the clothes.
Here's Duke showing off a couple of his tricks!:
Balance ball on nose:

Jump: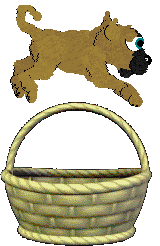 Bounce ball:
This is a list of his Obedience & tricks:
Sit- Chicken below
Down- Milk bone Below
Come- Whistle
Heel- Whistle and go forward
Beg- Steak treat above
Balance on ball- Steak over ball
Pick up ball and bring to me- Bone over ball
Bounce on ball- Chicken treat over ball
Balance ball on nose- Luve Treat over ball
Side jump to left- Steak to left
Rollover to right- Steak to right
Walk on hind legs- Bone above
Jump Right- Bone to right
Wave- Steak below
He's a Quick learner! He's also becoming a very polite boy. He needs a lot of socialization though, he needs to learn life isn't all about him lol.
I'm making a dog book for him, it's already looking Great and filling up quickly! I'm hoping to add much more to it.
Duke is now at age 30 on the brainslider, he just turned into an adult. I've neutered him for now, just so no accidents happen. I might undo it at some point, but we don't want more pups any time soon.
Here's a couple recent pics of Duke (All taken today) he's gettin so big!: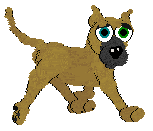 He's showing off some of his Obedience

. And that's Duke. This is only a Tiny part of Duke, he is so much more though!