Edin
Jan 3, 2011 0:26:25 GMT -7
Post by Amy on Jan 3, 2011 0:26:25 GMT -7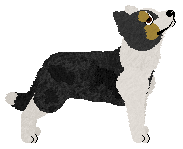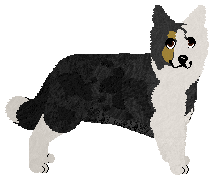 ::About Edin::
Edin has grown into quite the handsome boy. I am very happy I got him as I have always admired his uncle 'Bill'. Edin looks almost exactly like him! Luckily Bill's sister was able to produce a pup that looks like Bill and I got him! Edin has great showing potential and is great with learning new things. He is p-reg, so he'll be competing in Companion events instead of conformation, which is fine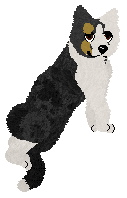 ::Our Goals for Edin::
-Titles we hope to reach with NAME in each showing organization.
-Striked out = Completed
PKC-
*Novice Companion Pet / NCP - Requires 10 Novice Companion points
*Intermediate Companion Pet / ICP - Requires 10 Intermediate Companion points
*Advanced Companion Pet / ACP - Requires 10 Advanced Companion points
*Obedience Dog / OD - Requires 3 legs
*Obedience Dog Excellence / ODX - Requires 3 legs
*Good Petz Citizen / GPC - Pass/ Fail*Excellent Petz Citizen / XPC - Pass/ Fail*Champion Petz Citizen / ChPC - Pass/ Fail
SHIR-
Champion - Requires 3 CWC's
InterChampion - Requires 3 CACiB's
Express Champion SHiR - Requires 25 BIS
Express InterChampion SHiR - Requires 75 BIS
Champion Obedience / Ch.Obi - Requires 50 points
Champion Frisbee / Ch.Fri - Requires 50 points
Champion Flyball / Ch.Flyb - Requires 50 points
Champion Agility / Ch.Agi - Requires 50 points
Champion Pasienia / Ch.Pas/ Ch.PPPP SHiR (Herding) - Requires 50 points
BCBC-
3 CWC (CAC) = Champion
3 CACiB = InterShowChampion
3 CACiB + link to Herding Competition = InterChampion
Obedience Champion - Requires 3 wins / 1st places
Flyball Champion - Requires 3 wins / 1st places
Herding / Psów Champion - Requires 3 wins / 1st places
Agility Champion - Requires 3 wins / 1st places
Frisbee Champion - Requires 3 wins / 1st places
Pets Sports Club-
Champion / Ch. - Requires 16 points in major show wins
Veteran Champion / VCh. - Requires 4 Veteran Points
AGM - Agility Master - 36 points
HGM - Herding Master - 36 points
DDM - Disc Dog Master - 36 points
FM - Flyball Master - 36 points
RM - Rescue Master - 36 points
Regular Pose Shows / Sporting events-
WCH (World Champion)- 100 points
(FrMs) Frisbee Masters - 150 pts
(APro) Agility Pro - 30 pts
(FPro) Flyball Pro - 30 pts
(HX) Herding Excellent - 50 pts