Post by Amy on Jan 7, 2011 0:21:07 GMT -7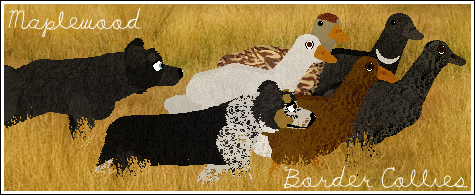 ^Pic made by Artemis^
~*Planned Litters for 2011*~
-January- MIOT A * Sire:
SGCh.
PKC
Ch
Maplewood's My Vow To You "Zable"
ChPC RFrD RhD
* Dame:
WCh.
Maplewood's Sweet Child Of Mine "Zanaka"
ChPC RFrD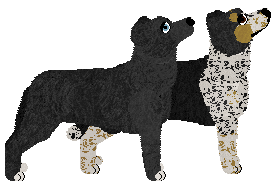 ~*Waiting List*~
*Amy - Yeah... I'm on the list too

*Koda @ Burgandy Kennels
*Artemis
*Cheryl ?
*Felus ?
*Ava
*Sandy??
*
*
*
~*Trial Breedings*~
1.12.11 - Unsuccessful
1.13.11 - SUCCESS!
*Puppies expected around January 15th 2011. About-
These two have already proven themselves excellent quality. At only a month old they have done exceptionally well in the shows no matter where I've shown them.
I am hoping to get Zable his Championship @ PKC before breeding him, he only needs 2 more points for his Ch. Title. It'd also be nice if he achieved his Premier title as he only needs one more point for that. I don't know if the show will close before the breeding though.
Since Zanaka is faulted for her blue eyes, I'm not expecting her to achieve her Championship anywhere where standards are concerned. My goal for her was to reach her World Champion title in pose shows, which she has already achieved, and for her to get her Express Champion & Possible InterChampion at SHIR. I'm not expecting her to complete those before the breeding. Both will still be working towards more titles even after they have been bred.
My hope in this litter is to get A-registerable pups, with out the blue eyes. Pups will definitely be dual quality, able to show well in show rings and compete well in Herding, Agility, Flyball, Frisbee, Rescue, and what ever else you choose to do with them! Both parents are very obedient and learn quickly.
We are expecting 4 pups in this litter, mostly black, maybe some black and white or ticked pups. This litter will be bred naturally & raised naturally.
I expect future owners of these pups to show with and compete with these pups to their full potential. This means weather they are A-Reg, P-Reg, or Faulted, you will still show them in as many things as you possibly can at the PKC, SHIR forum, AND BCBC.
Taking on one of these pups is a huge responsibility, I expect you to take it seriously and do your best with the pups. They will certainly eat up a lot of time. Please really consider it before posting a forum.
If I do not find suitable owners / enough owners for the pups, they will be shown / kept by me until they do find a home. I am giving everyone here at DG first option, I will also be advertising elsewhere.
******************************
To be added to the list, please add your name here:
shir.mojeforum.net/post-vp128470.html#128470