Post by Amy on Jan 15, 2011 11:37:42 GMT -7
Welcome to Amy's New cat training class #2! We are very excited to see all those new cats and see them learn! You have until the 15th to get your cats signed up! Homework assignments will start on the 16th.
Rules:
*You may sign up as many cats as you want, but be sure you will be able to work with each of them individually.
*You must show up to class! If you sign up, I expect you to participate in everything! The class will last at least a week, so be ready!
*For each homework assignment, you will need to post 3-5 pictures of your cat 'in training' these pictures can be of your cat doing anything; looking at treat, trying other tricks...etc... anything. The 6th picture needs to be of the final task. So if the homework assignment was Stalk, you'd need to post a picture of your cat stalking.
*Fill out the form each time you post your homework assignments!
*Cats are 31 and above on the brainslider!
*Would Love to see backgrounds included, but not required!
Forum to sign up your new cat:
Your email:
Your cat's name:
Cat's breed:
Cat's Age on Brainslider:
Has your cat had any previous training?:
If Yes to above, what does he/she already know?:
Forum to post your homework Assignments:
Cat's Name:
Homework Assignment #:
3-5 Pictures of cat in training:
Picture of completed task:
I really hope to get some cats signed up! I think this is going to be a lot of fun!
EXAMPLE of Homework Assignment:
Puppy's Name: Ripple
Homework Assignment #: 2 - Down
3-5 Pictures of dog in training:

Picture of completed task: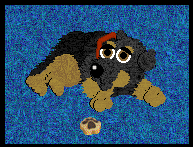 Please note! Pictures do NOT have to be merged, or done the way I did them. That's just what I like to do lol. Backgrounds do NOT have to be included either, but I do like them

.
Sorry example is of a dog right now, will try to get cat examples soon!
Have fun with this! Sign those cats up!
Signed up:
1. Dragon with Pamtre
2. Dragon with Noelle
3. Artemis with Junior II
4.
5.
Lesson #1:
Lesson #2:
Lesson #3:
Lesson #4:
Lesson #5:
Lesson #6:
Class #2: