Post by valerie on Nov 2, 2012 19:16:58 GMT -7
I've been updating on RKC, and recently came back to Duke's Group. So here's a couple updates to get caught up.
11/1:
Ashenvale wants to make some new friends. So I let her meet some other my other pets.
Cheese:
They were so cute playing tug-of-war in the backyard.
Blue (bred by Warhorse):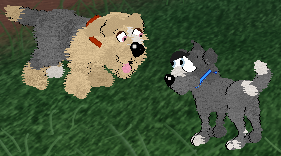 I let them play for awhile, and they're now best friends.

Franque: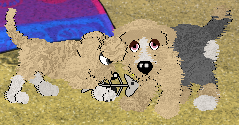 At first, Ashenvale wasn't sure about him. But then discovered that they like to sing together.
Jack (bred by Jax at Atticus Petz):
She decided to tackle him...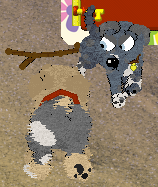 So he decided he hated her.
Jack's sister, Jill (also from Jax):
I think Ash was confused and thought Jill was her brother, because all she did was stare at her but didn't really interact at all.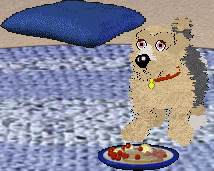 Dinner time!
Meep (also from Warhorse):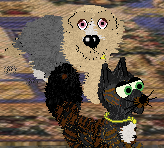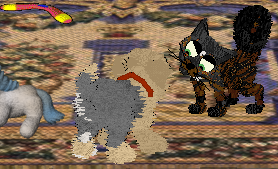 They were really confused by each other, and just kept looking at then sniffing each other.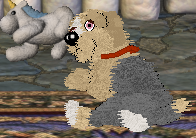 Oh Ashie, you're so silly!

One more...
Melborn: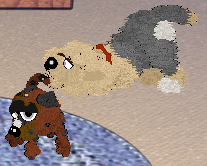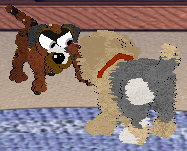 Nope, that wasn't a good meeting. Maybe when he's older...
11/2:
Ashenvale and Silvercrown got their happy pet certificates today. They're half way to being fully grown. How the time files... I guess Winterspring already had hers, so no picture of that.
Ashie taking a nap in the backyard. Blue refused to play, and insisted on staying right by her the whole time. She just flopped right down and waited. lol
So today it was Cheese's turn to be the main focus.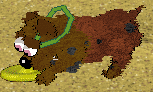 We learned that the red bowl (I'm not sure... is that "cat food"?) is his favorite.
I also let Ashie out to play and they played tug-of-war as always. But alas, I forgot to take pics.
We went to the South Seas to celebrate the weekend.

He met Blue:
He liked her, but she wasn't too sure about him and kept giving him the angry eyes.
While he and Blue were taking a nap, I brought out Franque.
Cheese was still sleeping while Franque was trying to introduce himself, and Blue just occupied herself by doing some site-seeing.
I took out Jack to see if another dog would wake Cheese up. Nope, still slept away!
Maybe the sun's making him so sleepy?
So we went back to the backyard, where he met Jill:
He was totally infatuated! He kept bring her toys, and giving her little nudges saying "Hey, pay attention to me!"
She wouldn't though. All she wanted to do was play with Jack. Poor Cheese!

He even tried to get her attention by walking right in the middle of their game of toss. Look out Cheese!
So I put Jack away to see if she would pay any attention to him with her brother gone.
We went to the living room to play with Meep:
I had forgot that Cheese and Meep don't really get along. It was all fighting and chasing across the room. Until Cheese decided to fall asleep...again. After he did, Cheese surprised me by laying down and cuddling him. Apparently Jill was surprised too.
"What on earth?!"
Of course Cheese wasn't too happy when he woke up. lol
So I let him meet Melbourne: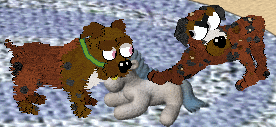 It went ok. They kept showing off for each other, but Melbourne kept giving Cheese angry eyes.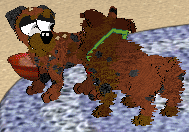 That is, until Cheese decided to groom him.
I then let him meet Silvercrown: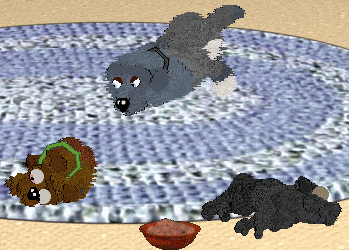 Who hated him!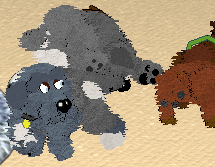 Especially when Cheese tried playing with Silver's half-sister, Winterspring.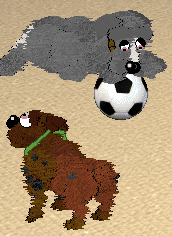 She didn't appreciate her brother telling her who she could or couldn't play with, so she chased him off.
"It's alright Cheese, we can still be friends even though my brother doesn't want us to."
So I don't know why he sleeps so much. Maybe it's because he's almost 100 and feels like an old man now. lol