Post by cori on Jul 8, 2014 11:20:35 GMT -7
Woo I've started a crew updates post
Today, Jenny's update
---
Me: Jenny? Are you ok?
Jenny: ....
Me: Jenny? come here tell me what's wrong

Jenny: That dog next door is picking on me again...
Me: I told you not to listen to him! What's he been saying this time?
Jenny: He said I was a mutt and I'd never be good for anything
Me: Jenny, Just because your parents were different breeds does not mean that your not good for anything.
Jenny: I'm a mutt though?
Me:well...some people say mutt, some people say cross-breed, but it doesn't matter. A lot of cross-breeds do all sorts of jobs! don't your remember the T.V show we all watched?

Jenny: Oh yes! There were old Fighting Dogs! Were my parents Fighting dogs?
Me: No darling! Dog Fighting is not allowed anymore anyway.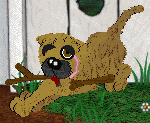 Jenny: Oh....How About Retrievers? I Love Fetching Sticks!
Me: no Darling they weren't Retrievers, they....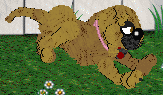 Jenny: Oh I know! They were Racing dogs! Im super fast!
Me: Jenny! They were not racers, Retrievers OR fighting dogs. Your parents were just household pets.

Jenny: But...you said I could do anything!
Me: I know I did, Im just saying your parents were Household pets!
Jenny: Oh..
Me: Hey, Why don't we go to the park, just me & you, and see if we can find what your parents breeds?
Jenny: Can I wear my rainbow set?
Me: Of Course!
Me: Ok Jenny, Stand still while I take your lead off, and remember to stay Close!
Jenny: Yes Mum.
Me: Ok, heres your ball, play nicely!
Jenny: I Will!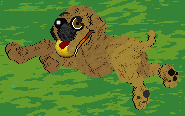 She Ran around for a few minutes, playing fetch and enjoying personal time with mummy.Then she lost her ball!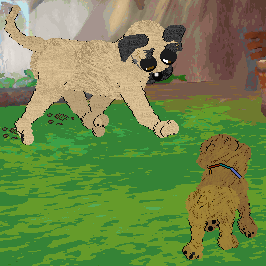 Jenny: Hey mum, what kind of dog is that?
Me: Oh! It's a Bullmastiff, Your Mum Was one of them!
Jenny: Wow...was she as big as that?
Me: Yes, she was dear
Jenny: Will I get that big?
Me: Possibly, Unless you take after your dad.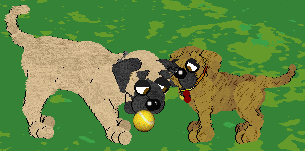 Jenny: Hi! Im Jenny! My mummy was one of you!
Bullmastiff: Oh? I see.. Is this your ball? I found it over in the tall grass.
Jenny: Oh! You found my ball!

Jenny: Look mum! I got my ball back!
Me: So I see, Try not to loose it again!
Bullmastiff: Oh! its my sister! Would you like to meet her little pup?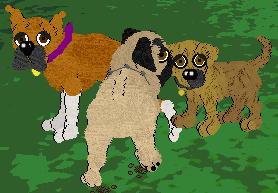 Jenny: She doesn't look like you! Are you sure she's your sister!
Me: Jenny! Don't be rude!
Jenny..sorry.
Bullmastiff: Haha, yes she is my sister, my adopted sister anyway. She's a Boxer
Jenny: Hey! My daddy was a boxer, I Remember mummy telling me!
Me: Thats right! We saw them on that T.V Show didn't we ?

Jenny: Hello miss, can we race?
Boxer: If you want to dear
Jenny: Oh your so fast!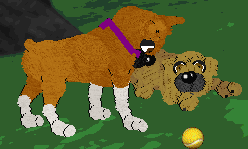 Jenny Played with both dogs, ran around, and..growled at her ball. We then left, as it was getting late and everyone needed to be fed.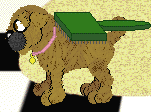 After feeding time, she had a bath, then a complete groom, before falling asleep.