Post by Nebula on Sept 10, 2014 1:50:03 GMT -7
Young Dromie arrived here yesterday from Twincharged kennels!
He is just the cutest little thing - He is a faded liver brindle irish brindog, a lovely breed developed by MaxPower.
I love him already Max thanks so much for him!
I first took Dromie out in the bedroom, where I had laid a soft pillow for him.
He seemed a bit disoriented at first, but he was not unhappy.
D
romie:
Woah, where am I? Where's Max?
Neb:
You're in your new home now. I'm Nebula, your new owner.
You okay?
Dromie:
Uh huh. Where's Bird?
Neb:
She'll have new owner too.
Dromie:
Oh. Can you show me around this place? Seems cool.
I took him to the TV room, where most of my dogs spend their time.
He was up and going in no time!
I set up a little basket for him there so he could relax when he wanted to.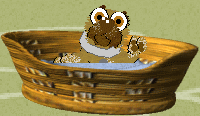 Dromie:
I love this room!
Neb:
Glad you like it - it's your new home, after all.
Dromie:
Sweeeeeettt. Will I sleep here?
Neb:
No, you'll be sleeping in the kitchens for a few nights.
Dromie:
Oh.
----
I felt sort of bad for taking him away from the room he seemed to love,
but I wanted to make sure he was crate-trained.
He'd be spending a lot of time out and about, of course but just sleeping in his very large crate.
But before that, he somehow managed to find the treats stash . . .
Neb:
Dromie! What are you doing up there?
Dromie:
Mrar? -mouth full-
Neb:
- sigh-
Neb:
Do you want some milk?
Dromie:
No, I'm a big boy.
. . . .
but maybe later.
Dromie:
Ooh, is there anything behind here?
Neb:
. . . .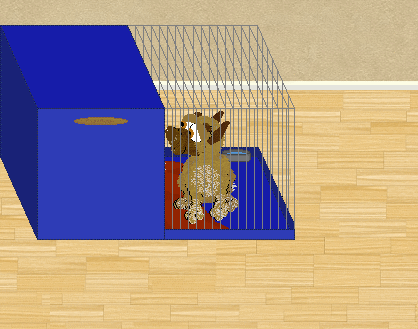 Dromie:
Hey! This is pretty cozy! and pretty big too!
Neb:
Glad its alright for you. You'll be sleeping in here.
Dromie:
Will I be alone? -anxious-
Neb:
No, Estelle and Donny will be sleeping down here too to be company.
Dromie:
Who? Will they like me?
Neb:
They're your new 'family'. I'm sure they will, they're lovely dogs.
Do you want to go meet them now?
Dromie:
Better now than never?
-*-
Dromie first met the motherly Estelle. I felt that she would put him at ease and be more welcoming.
I wasn't sure what Donny would think of him, him coming so unexpectedly.
Dromie settled into his basket as I went to call for Essie.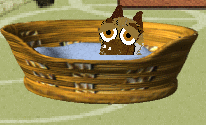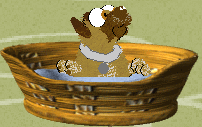 Dromie:
Ooh! I heard someone!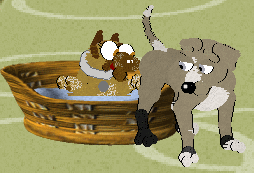 Estelle:
Hey, Dromie!
Dromie:
OHMYBACON you scared me!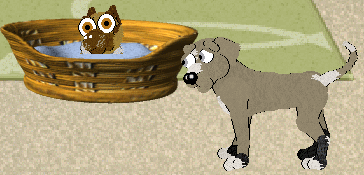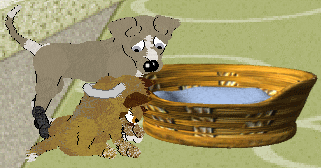 Dromie:
Oh that was so embarrassing! -hides-
Estelle:
It's okay sweetheart. It's nothing to be ashamed of.
Estelle:
Hey, follow me. I'll show you a few tricks o' mine.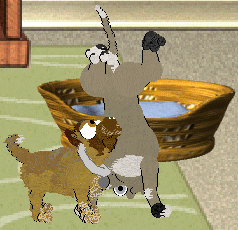 Within minutes, these two are playing with each other and sharing tricks!
Dromie immiedately liked Estelle and that was such a relief! She loved him right back.
When she left, he was so upset.
Tomorrow, I'll continue this when he meets Donny!