Post by Vanilla on Dec 18, 2019 19:05:46 GMT -7
Weeeelll
sappire
made me want to play with my petz, and i just got a lovely new bunny from Midnightwolf, AND i actually have some time to play tonight! So without further ado, i'd like to introduce you to Hot Chocolate! <3




i was lucky enough to win him on a PUGS Christmas raffle
i put basically all my candy canes on him, between 40-50 total! i'm glad i did too, he ended up having over 100 tickets on him, which was the most on any pet during that round of raffles! Sooo yes i stacked the odds in my favor, but there was also a huge chance he went to someone else and i'm so glad he's mine! in case you don't know, i've looking for a precious lop eared bunny for a really really long time now, i've wanted one since i have a Holland Lop irl, and this little dude fits! When i first brought him out he was all shakey and scared, the poor thing!
i decided maybe it would help to go grow some carrots in the yard, so that's where we headed!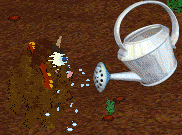 i immediately started spreading some seeds and watering. Turns out Hot Chocolate does NOT like to be watered, but also wouldn't move out of the way lol! So then we just hung out, and Hot Chocolate decided he likes to lay in the dirt.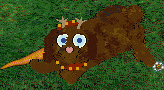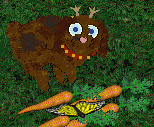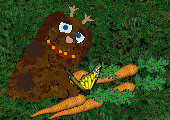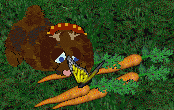 Once i harvested the carrots i put them in the grass(mostly so we could actually see him LOL) i had to wiggle a carrot around to make them exciting enough for him to care, and he happily stalked and ate one! He started to stalk the rest of the pile when a butterfly appeared, and of course he had to check that out! He followed it all over the place, then he suddenly decided it was scary and started running all over the place! So we went inside with the rest of the carrots.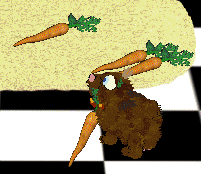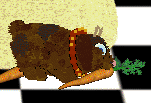 We went into the kitchen and i took out all the lovely carrots we grew and Hot Chocolate immediately started eating them. He's still a bit of a nervous nelly, walking around with one in his mouth while cowering at the others! i think he enjoyed himself too though since he kept stopping and doing what's called a "binky" for who knows what reason in rabbits, i prefer the guinea pig term which is "popcorn"
Basically when they're excited and happy they will jump in place or while running, like bunny zoomies! Even got some bunny kisses! After a little while he stopped eating carrots and started just playing with them so i let him.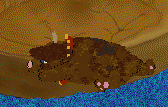 He started to get sleepy so we headed back to the toy closet so he could get some rest.
Next time i plan on introducing him to my others i keep in game most of the time ^-^
~Vanilla