Post by tybaxel on Oct 18, 2021 3:56:11 GMT -7
Amy
shrew seems to favor beelzebub over asmodius, but there's definitely some stiff competition between them. shrew is almost 50% grown, which i believe is when she is able to have kittens of her own, so i'm curious to see if they will have kittens!
emery came straight to the door as soon as i opened the game today, and then he acted surprised when i let him out.
koji has also been weaned! i couldn't decide what to put on him, so i just gave him a collar. i need to find more clothes online!
interestingly, koji is bigger than shrew now, even though shrew is much older. they don't seem to have a lot of interest in each other, but they were chasing after a ball together.
koji seemed a little interested in emery...
but it didn't last.
sahara is on her last day with estella! i gave her a cute bandana to match her eyes.
emery was still pretty disapproving of sahara, and kept glaring at her.
he kept trying to tackle her, but she managed to dodge his attacks every single time.
estella also kept barking at sahara. i really don't understand what her deal is.
also, brutis is now fully grown! he looks so handsome! hopefully i can start entering him in shows soon.
sahara tried going back in the case again, to no avail. she's clearly much more shy than her brother.
otto is also on his last day! i gave him a collar as well.
bichael was very excited to see how much his son had grown!
i brought out a milk bottle to see if any of the babies were interested, but surprisingly estella was the one who took it!
sahara tried watching the clouds, but she kept being interrupted by emery and shrew.
eventually i took out allister, beak, and bowler. everyone introduced themselves.
beak was pretty optimistic, as she usually is.
otto wasn't interested in meeting new faces, and instead watched the clouds.
bowler decided he doesn't like otto, though.
otto also still loved this wooden toy. only now he's no longer smaller than it!
koji still had interest in the soda.
bowler tried to make friends with pinky, but she was shaking the entire time. not sure if it worked.
i also checked in on asmodius, beelzebub, and shrew.
the brothers were unusually calm today. i guess that's a good thing!
shrew and beelzebub were being super lovey dovey as usual.
then at one point, beelzebub got super freaked out and began running in circles around the yard. asmodius took the opportunity to sneak in some flirting.
then shrew got mad at asmodius for some reason.
i think asmodius is slowly coming to terms with the fact that shrew seems to favor beelzebub. he sat like this as he watched them flirt -- no angry lids this time!
i brought out a few more dogz and left them to their own devices while i was busy doing something else. after about 20 minutes, i checked in on them...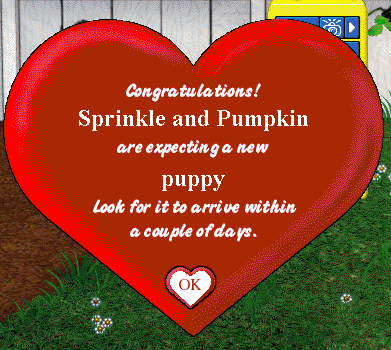 oh! well, it seems pumpkin has fallen in love! i wasn't really expecting this!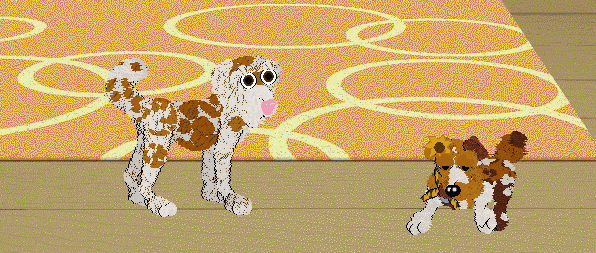 pumpkin has fallen in love with sprinkle, who is a great dane. sprinkle is notorious for her sour attitude, so i was surprised to see that she and pumpkin seemed to click!
now...this is where it got interesting. i was still busy, so i kept the game running in the background before the baby was born. a bit later, i checked again, and...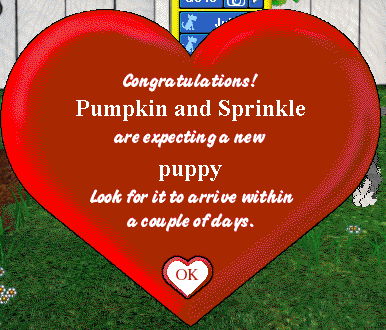 ...for real?
well, it looks like we have twins(?) on the way!
and mere seconds after i dismissed this popup...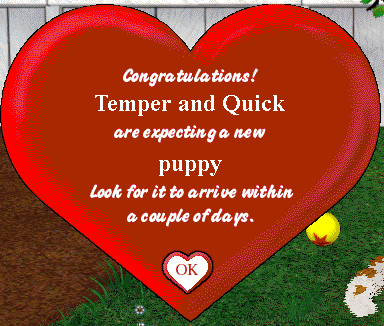 good lord. it seems spring has sprung...in the fall.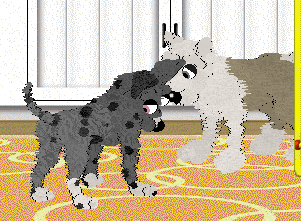 temper is a cute dali mix with chihuahua ears who has produced beautiful babies in the past. quick is a lab/sheepdog mix who is a newer addition. i think they're cute together!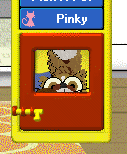 as i was cleaning up the area in preparation for the babies, pinky came to the door. i guess she's slowly overcoming her fear of the outside world!
i decided to have temper and quick's baby first.
the baby was a boy who was entirely white except for two dusty colored back paws. he looks a lot like his father! the first name that came to my mind was shoe, for his little gray shoes...so, his name is shoe!
temper seemed a little nervous.
quick was also pretty nervous, and kept running away whenever i placed him near shoe. for a while, he just watched from afar.
but then he eventually settled down beside them! look at this cute family.
next was sprinkle's baby, who was a boy. he was a beautiful blend of both his moms! i named him spice.
after that was pumpkin's baby, who was a girl. she was also very beautiful! i named her harvest.
these two siblings are adorable together! i can't wait to see how they will interact as they grow up.
sprinkle and pumpkin are great moms as well!