Post by Vanilla on Aug 17, 2018 10:14:11 GMT -7
Sooo I've been meaning to start one of these and I'm currently naturally raising a litter, so might as well post them here, yeah?
This thread will probably jump around dogs a lot, I have a couple of puppies I plan to naturally raise once this litter is off to their new owners, but I also plan to do lots of getting to know some of my shelties that I never really got a chance to get to know, and playing with some oldies as well <3 So I'll go ahead and drop everything from the litter updates I've been posting over at PKC

Day 1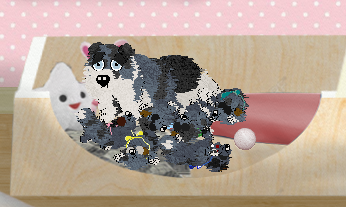 Our puppies have finally arrived! Six of them, mom and babies are all well! Queenie is handling being a first time mother wonderfully, she's definitely protective but will let me handle the puppies without much fuss. I was shocked when they all came out, just one girl after another! Seems very fitting that we're using Penny's pink nursery
In order of birth we've got pink, light blue, green, teal, yellow, and dark blue! They all look just about the same, however I'm sure you all know how they change as they grow

From what I can see now, it looks like four will be a-reg and two will be p-reg. I'll keep you updated as they grow!
Day 2
Not much to report here at Royalty. The puppies are two days old now and gaining weight quickly! Until they're up and walking, there's not too much going on here other than lots of handling and such to try and get the puppies used to being held. Soon we'll be able to start seeing their personalities come out instead of the current puptatoes that they are, and I can't wait!
Day 3
Everyone is up and walking, and eating solid food <3  So I'm able to learn a little bit about them now, although momma is pretty protective still.
I took out pink to play with first.  Queenie followed us around, barking angrily when I pet too much.  She IS a new time mom after all, so I tried to reassure her it was okay.  Upon seeing the star pillow, she went and just laid down on top of it.  She's a chubby little girl, waddles all over the place lol.  So far she seems pretty relaxed, and definitely food motivated. She barely hesitated before gulping down several mouthfuls, so she also seems to be pretty confident.  The sight of that new pillow didn't phase her either.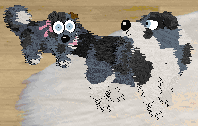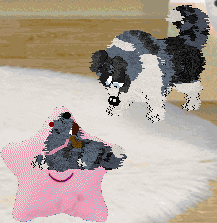 Light blue was next.  She wasn't quite as heavy as pink, but still at a good weight.  As soon as Queenie set him down he went right to the food bowl. Not to eat, but to paw it around and play with it.  Mom wasn't very happy to see him playing with his food, so it wasn't long before he started chowing down.  When he finished there was hardly any left!  Stuffed to the brim, he laid down for a nap.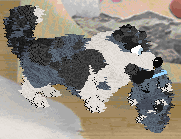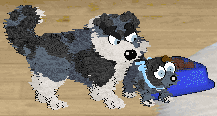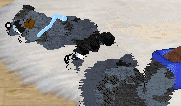 Green is also on the chunkier side, but she seems to be more active, she was play bowing at her mom right off the bat.  Momma was comfortable enough to take a nap while Green waddled around the room, contemplating what heck was in the bowl.  She was a little scared of it, nudging it and then laid down next to it looking all sad.  However, when I took a picture of her she hopped up and posed!  After the confidence boost of getting rewarded for posing, she happily hopped over to eat some food.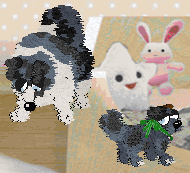 Teal was up next, she's also a little chubby ball of fluff XD  She seemed pretty relaxed, but is definitely a momma's girl.  Following mom all over the place.  She wasn't shy about the food, but she didn't immediately start chowing down either.  So far she seems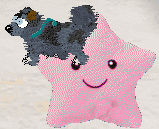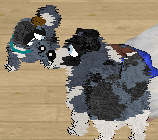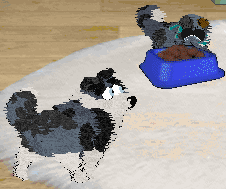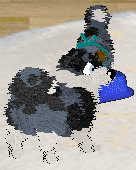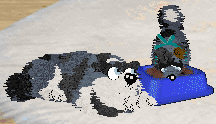 Next up was yellow!  She's not as chubby as some of the others, but still has a good weight.  She seems pretty confident and outgoing, however Queenie is a little nervous about her still!  I picked her up and set her down and mom did NOT like that!  She literally scooped up her pup and left XD  After I convinced them to come back, I just let yellow explore.  She went over to the food bowl and nudged it at least 15 times, and she kept going over to the door and just staring at it.  On top of that she seems to love exploring, she spent a lot of time just sniffing around.  Didn't really care much about the pillow or food, at least as far as eating it goes lol.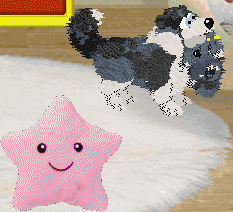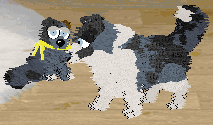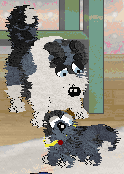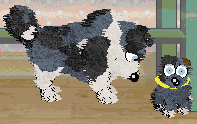 Last but not least is dark blue!  Not chubby but at a very healthy weight.  She is just full of personality!  Squished her feet on the pillow right off the bat, and then batted it around.  She seems really enthusiastic about life, and likes to make goofy faces!  She's very active, and enjoys running all over the screen.  No real interest in the food, but loves batting the pillow all over the place and running around like crazy, and made me laugh out loud more than once.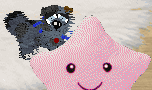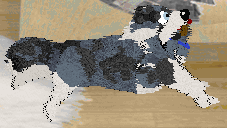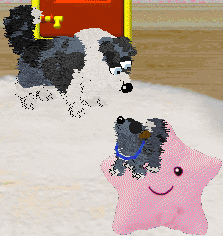 So that's that!  Everyone is doing really well.  As far as showing goes green is currently POL, and I'm leaning towards taking dark blue but nothing is official until everyone leaves mom and I make my final decisions.  Please note that yellow and pink are our two p-reg double merles

 All the puppies have one more day with mom which I plan to use to introduce them to some toys.  After that they will get their new coats and I will do full temperament testing, decide who is POL, and decide who I'm keeping.  After that you may all start picking who you want in order of reservation.  Please note that temperament testing often takes two days in larger litters like this as I am very thorough, however I will keep all of the puppies at the same age if it does take more than one day.
Day 4
I've got 5 toys out for everyone to explore today. The red and blue ball, a bone, the wool plush, a kong, and another puppy toy(which I made based on a toy one of my RL dogs had when she was a puppy lol).
Just like yesterday, pink was first! Just as chubby as yesterday XD She seems a little interested in the toys, and nudged a few, but was just as interested in the food bowl LOL. Because why play with toys when you can play with your food! Some of that might just be because she's still so chubby, tomorrow we'll burn some fat off and find out what her drive is actually like lol.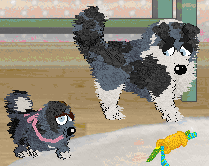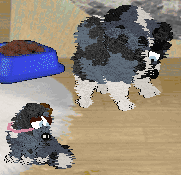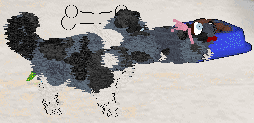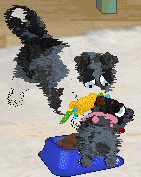 Light blue was next, she was definitely more interested in the toys! She was most interested in the orange toy and the ball. She spent a lot of time just nudging the toys so they'd move. Still interested in the food, but she spent more time checking out the toys. She really enjoyed just checking everything out.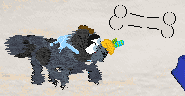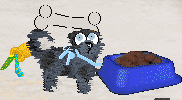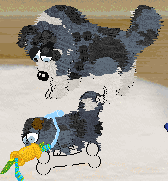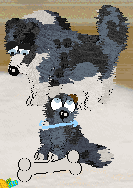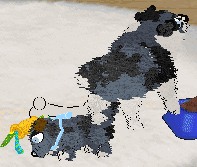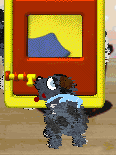 Green was next. She was immediately ready to play, and hopped right over to check out the toys. She got sad when she nudged the orange toy and it didn't move, which was basically the cutest thing lol. She wasn't afraid of the toys at all, and was happy to check them out. Poor girl got bowled over by mom though XD Distracted her a bit LOL. After that mom kept bringing the food bowl over and nudging it towards her, which was really sweet but green was not hungry and got a little confused XD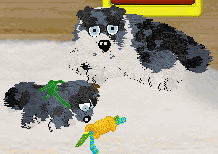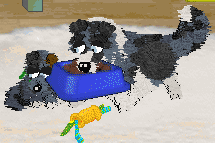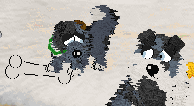 Teal came next. Teal checked out the toys a bit but wasn't super interested in any of the items. Teal was mostly interested in me and her mom vs the toys. She sorted just wandered around following Queenie or checking out the room, or watching me to see what I was up to. She seems to be a bit of the daydreaming type.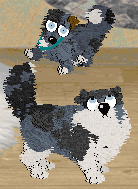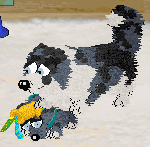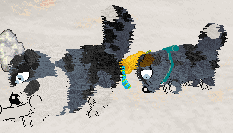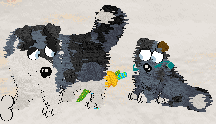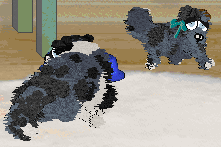 Up next of course is our little odd-ball, yellow
She was really into the toys, immediately going over to check them out. They definitely brought her out of her shell some. She really liked that when she nudged the ball it would roll. She'd follow it and nudge it again
She was the first pup to actually pick up a toy as well, and then she just laid there chewing on it. Very glad she's starting to blossom. I didn't want to post it before everyone's trip to the vet, as I wanted confirmation, miss yellow is indeed one of our double merles and sometimes that comes with health issues. Yellow happens to be deaf, which explains her behavior being a little different than the other pups. However, she's definitely very sight and scent driven, and loves her toys! She will still do very well in whatever home she goes to.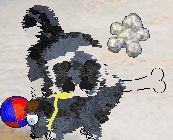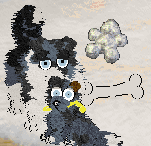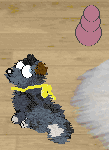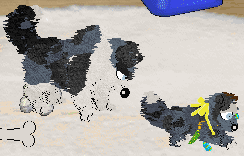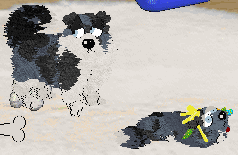 Last but night least is dark blue! He ran around right off the bat, and said hi to me before checking out any of the toys. Then he rushed over and started nudging at the different toys to check them out. He was super enthusiastic about checking out the toys, and did lots of nudging! He seems to have a handler focus but also enjoys other dogs, food, and toys. A nice rounded out puppy for sure.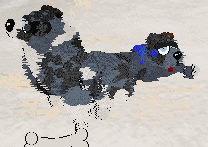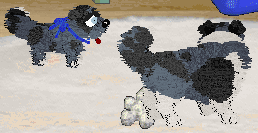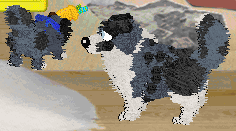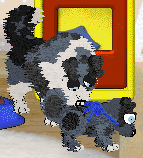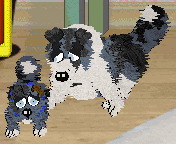 That's everyone! Tomorrow everyone gets to finally be away from mom which probably means more/better pictures LOL, plus lots of testing to be done! <3 So excited about this litter!
~Vanilla