Post by Amy on Oct 24, 2018 13:00:10 GMT -7
Duke's Group now has Skijoring Races! Something fun for you and your petz to do when they aren't racing in our big Iditarod Race! Your dogs can gain some great experience from our Skijoring races and help you decide who to put on your Iditarod team!
**Please note-
This is completely separate from our Iditarod stats for the time being. We hope to integrate these kinds of things in the future but right now it's more for your own fun. Use it how you'd like

There are 3 Skijoring titles your dogz can gain!
[SJD] Skijor Dog - 50 miles completed & one 1st place
[SJDX] Skijor Dog Excellent - 100 miles completed & two 1st places
[SJDO] Skijor Dog Outstanding - 200 miles completed & three 1st places
A Team consists of 2 dogs.
Races will be different lengths from 3 to 12 miles each
and
only 6 teams will be allowed to enter per race
.
You are allowed to enter up to 2 teams per race.
Mile amount will be randomly generated for each race.
Your team can only enter
1 race a week to avoid injury
. However, you are welcome to
enter different teams in each race
.
If there's only 1 entry/team in a race
, the team entered will earn miles completed, but no placements will be given out.
2+ teams
, miles completed and placements will both be given.
To enter
, you will need to post a picture of your dogz together (NOT EDITED). Examples;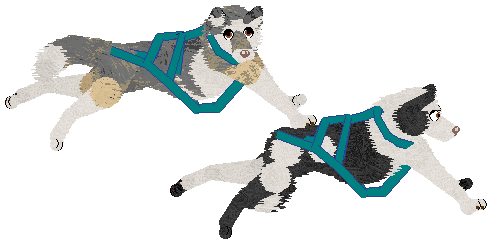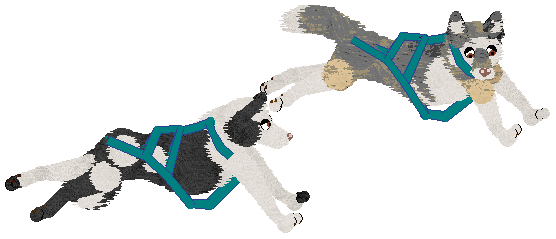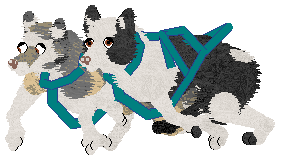 To get this, take your dogz out and grab the auto rolling ball. You can either hold it and let them chase it or give it a good toss. You can also try calling your dogs or even switching playscenes. Take a picture when they are running together. Try to get them in the same direction and close together.
Pictures do NOT have to be perfect! Pictures do NOT have to be new! However, you will be rewarded if they are.
A team who looks good together will automatically have a good start time of 20. Teams that don't look like they are working as a team will get a normal start time which will be randomly chosen using random.org between the numbers of 1 and 15.
Dogs do not always have to race in the same team. Dogs should be wearing a harness. Booties are optional.
How Races are run-
First I'll judge the pictures to see which teams will get the good start of 20 or a normal start.
Then I will use random.org to randomly choose numbers between 1 & 15 for each team. I will randomly choose numbers until each team's adds up to 50. The first team to reach 50 will place first, 2nd will get 2nd...etc...
If you enter with new pictures, you will get a bonus of 5 added onto your first random number generated.
No points will be given out for these races. You'll need to keep track of how many miles that race was and if they came in first or not.
I will try to video the judging of the races!
Questions?
Post them below! I'll try to video a trial run to help make things clearer too.